مکالماتِ نبوی ﷺ اور دعوتی حکمتِ عملی :تحقیقی جائزہ
Conversations of the Prophet ﷺ and Da'wah Strategies: A Research Review
Keywords:
Prophet Muhammad, Makkah, Muslims, Islam, Da'wah
Abstract
It is a human habit to be distressed by seeing others in pain and distress. The effect of this habit is that despite being in a hurry, seeing someone dying, a person tries his best to save him. In a Da'i, this yearning is present to the fullest extent, which gives all the attraction to save other human beings from hell. Prophet Muhammad (PBUH) used to be more anxious to save people from the fire of Hell.
It is important to have some qualities in the Da'i that other people can be impressed by seeing. That's why It has been ordered to adopt the character of the Prophets and the Great Messengers, peace be upon them because the character of the Da'i, his qualities and his unique style have a profound effect on other people. People are more influenced by his dealings, morals, personality and style than the knowledge and preaching of the preacher and this influence compels them to follow the preacher. The more heavenly qualities/attributes will be found in the Da'i, the more effective his da'wah will be.
Like the previous Prophets, the Prophet (peace be upon him) adopted different methods for inviting to the religion. According to the circumstances, he used to adopt every method that would have the maximum effect on the people. At first, he kept the invitation a secret. Then, as soon as he (PBUH) received the order to announce the invitation, he (PBUH) started the series of announcements. In this regard, sometimes he would gather the people of Makkah on Mount Safa and call them to Islam, sometimes he would call the people who had come on Hajj to the religion of Islam and sometimes he would go out of Makkah and try to save the people of different tribes from the fire of hell.
In this regard, Prophet Muhammad (peace be upon him) had conversations with various people through which he invited non-Muslims to the religion of Islam. All these dialogues were not of the same style, but different invitation strategies were used in them. Studying these dialogues is very important for the Da'i in present times. In the present paper, an attempt will be made to describe these methods.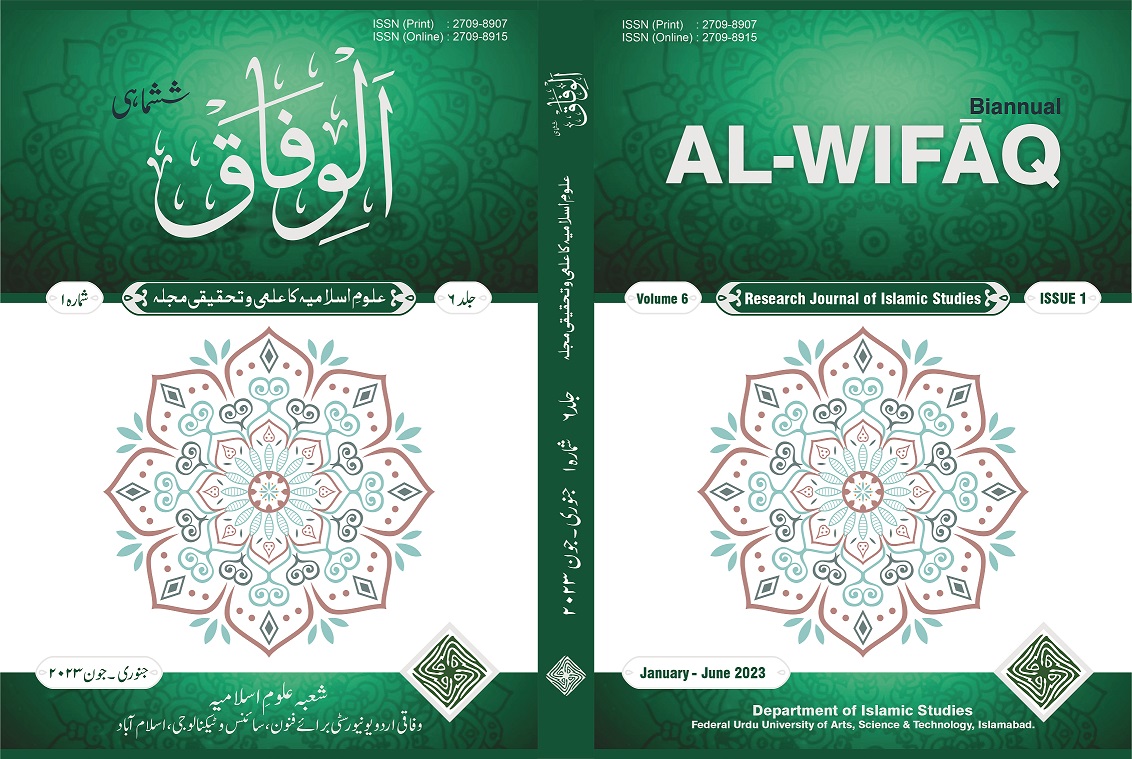 Downloads
How to Cite
Naveed, H. M., & Hashmi, S. N. ul H. (2023). مکالماتِ نبوی ﷺ اور دعوتی حکمتِ عملی :تحقیقی جائزہ : Conversations of the Prophet ﷺ and Da'wah Strategies: A Research Review. Al-Wifaq, 6(1), 1–15. https://doi.org/10.55603/alwifaq.v6i1.u1
License
Copyright (c) 2023 Al-Wifaq
This work is licensed under a Creative Commons Attribution 4.0 International License.