مختلف الحدیث اور اس کے حل میں ملا علی قاری ؒ کا منہج: ایک تجزیاتی مطالعہ
The Style of Mullā Ali Qāri in the Solution of the Contradictory Hadith: A Research Analysis
Keywords:
Mullā Ali Qāri, Mirqāt al-Mafātiīh, Contradictory Hadith, Hadith Sciences
Abstract
The Contradictory Hadith is a branch of Hadith Sciences that deals with the methods to solve the contradictions between two or more narrations of the Holy Prophet (PBUH). Mulla Ali Qari is the author of a detailed commentary on the famous Hadith compilation Mishkāt al-Masābīh named Mirqāt al-Mafātīh. In this commentary، Mulla Ali Qari has focused on such narrations and provided all possible solutions to such narrations. This article is designed to explore his method in this regard. The author، at first، has brought the principles set by the adapts of hadithic scientists (Muhadithīn)، and then the examples from the said commentary have been brought under discussion. This research concludes that Mulla Ali Qari has not only provided all the interpretations described by his predecessor scholars but has also introduced many new interpretations himself.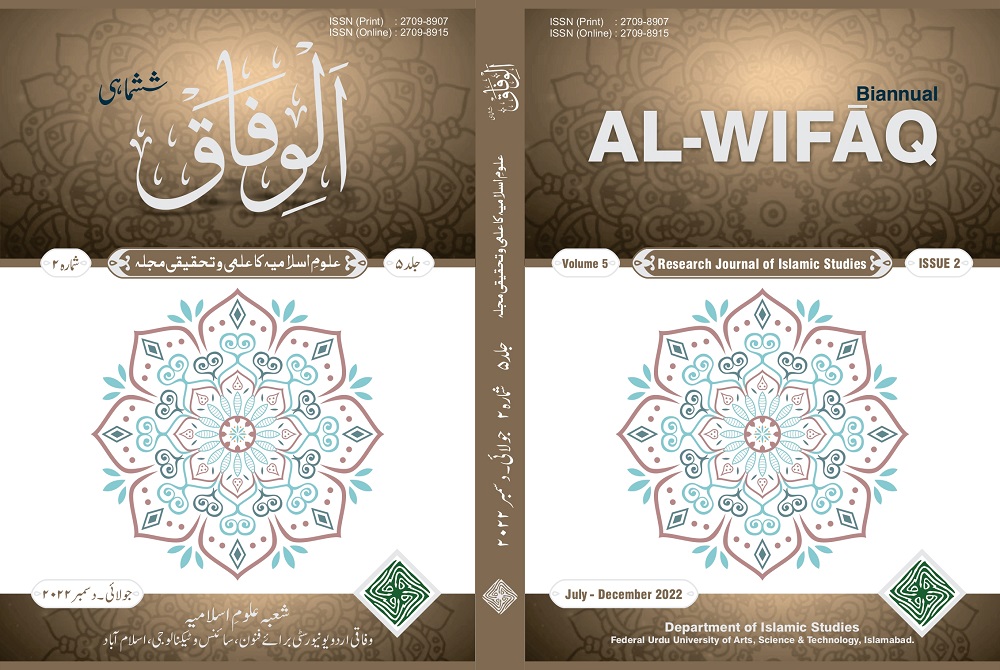 Downloads
How to Cite
Misbah Ul Hassan, & Khan, A. B. (2022). مختلف الحدیث اور اس کے حل میں ملا علی قاری ؒ کا منہج: ایک تجزیاتی مطالعہ : The Style of Mullā Ali Qāri in the Solution of the Contradictory Hadith: A Research Analysis. Al-Wifaq, 5(2), 1–19. https://doi.org/10.55603/alwifaq.v5i2.u1
License
Copyright (c) 2022 Federal Urdu University of Arts, Science & Technology
This work is licensed under a Creative Commons Attribution 4.0 International License.